Maria Saros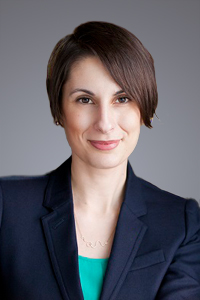 A senior corporate communications executive with expertise in financial services and higher education, Maria Saros is Vice-President of Enterprise Communications at Scotiabank. With a proven track record in reputation enhancement and protection, she leads high-performance teams and delivers communications strategies that drive business outcomes.
Maria was previously the Vice President of Corporate Communications at TD Bank Group. She joined TD in 2008 and held progressive roles with the bank in Canada and the United States . In 2012, she was named Associate Vice-President of Corporate Communications and led the corporate communications team for the bank's U.S. business. In 2014 she was appointed the bank's Vice-President of Communications, CEO and Corporate Functions in Canada and later moved to the role of Vice-President of Communications, Canadian Retail and Wholesale.
An active champion of workplace inclusion and diversity efforts, Maria has worked to help those around her reach their full potential. She was previously a member of TD's Women in Leadership Committee and People with Disabilities Network Sub-Committee. She also previously served on the TD Bank Group Pension Fund Board.
Maria began her career as a Communications Officer at the University of Toronto where she was immersed in academia, advancement and research. With a firm belief that technology is pivotal for the prosperity of the next generation―and of Canada—she has a keen interest in technological innovation and the creation of technologically advanced professions.
Maria holds a Bachelor of Arts from the University of Toronto and has completed the Financial Analysis for Non-Financial Managers course with the Schulich School of Business Executive Education Centre at York University. She also earned a Canadian Securities Certificate, and a Corporate Communications Certificate from Centennial College.